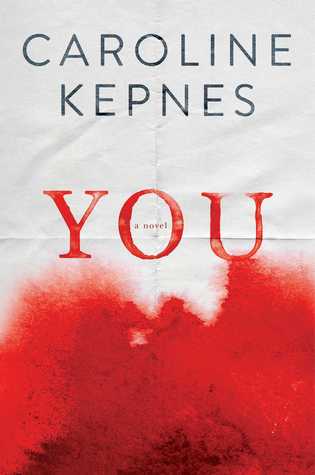 Title: You
Edited By: Caroline Kepnes
Original Publication Date: September 25th, 2014
Original Price: $26 (Hardcover)
Number of Pages: 422
Starkiller Rating: ★★★★✫
Quick Synopsis: Guinevere Beck  strolls into a used book store in New York City and meets a lovely bookseller, Joe Goldberg. Little does she know his infatuation with her, turns him from stalker, to boyfriend, but it's all apart of his plan.
I'm seriously getting worse at coming up with synopsiseseses. I mean, it's not what you come here for right? Because if you do come for my synopsis, I'm sorry they're outrageously terrible as of late. But I digress.
You is quite different. I received an ARC edition and decided to save it for Fall/Halloween season, and I'm truly glad I did. It is not a generic horror story. In fact, there seemed to be a distinct lack of gore which I found quite refreshing. It was not a typical gore-infested horror story but more along the lines of a psychological thriller set to make you truly think about our society and culture of today.
It is a truly frightening case of social media going bad. Everything Joe needs to know about Beck is right there on the internet, posted to thousands of people around the world, but she pays no mind to it. Much like most of us!
Trust me, after reading this book, I thought twice about posting some things I otherwise would have.
There are definitely some truly amazing quotes directed as a commentary of our internet-driven culture which will truly resonate with you, because they definitely resonated with me.
The action is a tad slow paced but the drawing out sincerely adds layers of tension you do not want to miss. Trust me, it all pays off in the action-packed ending.
Definitely recommend this to people who like psychological thrillers and taking a step back from life, for a chance to dissect it.