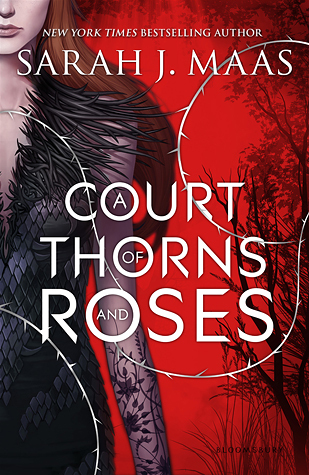 Title: A Court of Thorns and Roses
Author: Sarah J. Maas
Original Publication Date: May 5th, 2015
Original Price: $18.99 (Hardcover)
Number of Pages: 419
Starkiller Rating: ★★★★★
Quick Synopsis: When 19 year old Feyre kills a wolf in the forest, a beast comes to demand retribution for his friends death. Feyre is abducted and placed in a magical world, humans deem evil.
Gosh, that synopsis was pretty terrible. It's pretty much a Beauty and the Beast re-telling but with fairies. Sexy, sexy fairies.
I have never read any of Sarah J. Maas's work. I have this weird like mental block about it. I tried reading Throne of Glass and stopped, and when I read this book, I did the same. It literally took me an entire month to read it even though I flipping loved it!
Sarah J. Maas is such an extremely talented writer! I literally couldn't complain about anything. No, just kidding, it wouldn't be a review of mine if I didn't complain. The only actual complaint I have is that two many characters clicked their tongues, too many times. That's it. That's my complaint.
Maas is an expert world builder. I felt like I could travel to this land. I could imagine everything so clearly and it was all so beautiful.
I don't know much about fairy lore so I don't know how much she made up and how much is.."canon?" with the story but I loved everything. There was such intense beautiful language and imagery. I especially loved the romantic qualities of the story. I had no idea it was going to be so…sexy.
But not only is it a beautifully told story, with romance and magic, it's also action packed! And the antagonist is such a good one. Pitting a woman against a woman was an excellent choice because they are both such strong and smart characters for so many different reasons. It was just great.
Sarah J. Maas just has a way with words and I love it. I seriously can't wait to read everything else she's ever written.