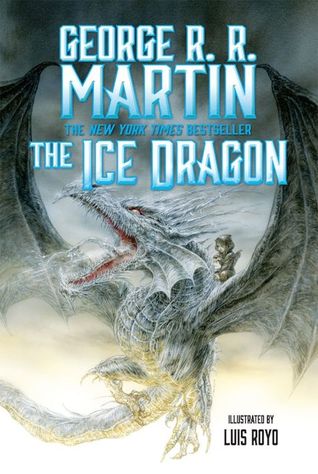 Title: The Ice Dragon
Author: George R.R. Martin
Original Publication Date: 1980
Original Price: $14.99 (Hardcover)
Number of Pages: 121
Starkiller Rating: ★★★★✫
Quick Synopsis:The Ice Dragon is a tale of courage and sacrifice that follows young winter , Adara, and an unlikely ally. Set in the world of A Song of Ice and Fire.
I saw this gorgeous cover and was curious. I am one of the few people left in the world that neither read nor watches the Game of Thrones series. I've had countless people recommend it to me but a part of me is intimidated and a little put off by the length. When I saw this beautiful book and the short length of it, I wanted it.
Fast forward a while and I found it on good old, bookoutlet. Of course, I ordered it and read it the day it arrived. I'm so glad I did.
I loved George R.R. Martin's writing style. I have no idea how it differs from the A Song of Ice and Fire series and the world building/writing style there. As this book was published with child readers as it's target audience, adults will learn of few things from the multiple meanings and themes laced throughout this short tale.
When reading this, I had no idea it was a re-release of a book he had published in the 1980's, but this re-release, is legitimately stunning. It has art by Luis Royo and let me tell you, each piece is as, if not more, gorgeous than the last. I have no idea if Royo was a part of the original publication but I hope he was.
I loved this book and truly believe everyone should read it, especially fans of Game of Thrones.