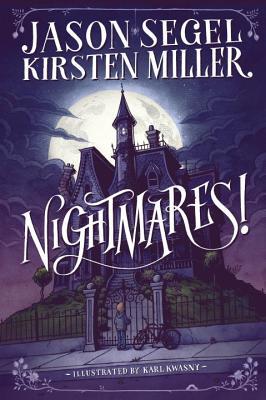 Title: Nightmares!
Author: Jason Segel and Kirsten Miller
Original Publication Date: September 9th, 2014
Original Price: $17.99 (Hardcover)
Number of Pages: 368
Starkiller Rating: ★★★★★
Quick Synopsis: A boy must face his fears to save those he loves.
Oh my gosh. I can't fully express how much I really liked this book. I don't usually shy away from celebrity authors, in fact, I seek them out. I just tend to always purchase celebrity authors because I'm just a naturally inquisitive person. I'm just curious to see what they can/would write about. I guess it's just me being a judgmental B..anyway, I digress.
I'm so glad I got this. This is another book I regret not reading the second i got it. It's absolutely perfect for middle grade readers. It attacks some very important and meaningful themes head on.
Throughout all the horror (that I found adorable, but some things were plain creepy) there was a very distinct core of family to the story. I would definitely suggest this to not only any child but any adult hat has lost a parent (in more ways than just death), because it is highly relatable.
There are very definite underlying themes that ill catch you right in the feels.
Love.