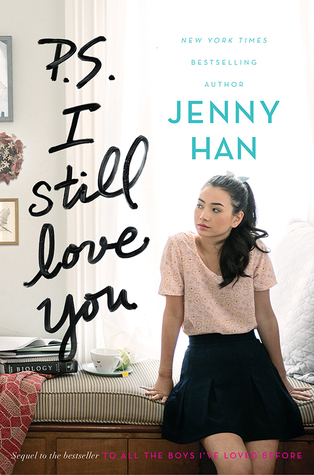 Title: P.S. I Still Love You
Author: Jenny Han
Original Publication Date:May 26th, 2015
Original Price: $17.99 (Hardcover)
Number of Pages: 337
Starkiller Rating: ★★★★★
Quick Synopsis: Lara Jean has to learn to deal with the mixed emotions her pretend relationship with Peter Kavinsky have left with her.
Jenny Han has done it, yet again. I'm just going to say it, Jenny Han is one of my new favorite authors. So far everything I've read has been absolute gold.
The characters were just as loveable in this sequel as they were in the first book. Some of you may remember me saying that I didn't particularly like Margot in the first book but in this one, she plays such a huge part in Lara Jean growing up. Margot actually became an extremely human and likeable character. I understood her personality traits in this book much more than in the first. I somehow gained insight into why she acted the way she did. And that understanding just makes the book so much more heartfelt!
There were moments when I actually didn't like Peter Kavinsky. I thought he was making terrible decisions but as the reader grows with Lara Jean, I felt like I just completely understood why everyone did everything they did.
Usually I hate love triangles in books but I loved this one. I liked both of the boys so much and they were both perfect for Lara Jean in so many different ways. However, I think she made the perfect decision.
The entire book pulled at my heartstrings with every turn of the page. There were sad moments, happy moments, and beautiful moments that all added up to an intensely wonderful and swoon worthy book.
If you haven't read these books, you simply have to.