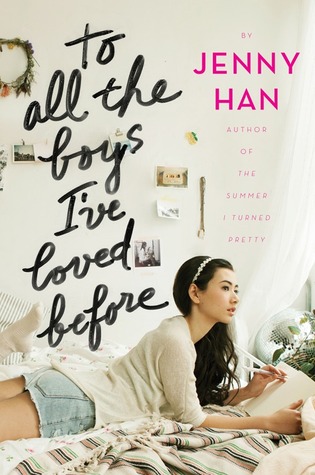 Title: To All the Boys I've Loved Before
Author: Jenny Han
Original Publication Date: April 15th, 2014
Original Price: $17.99 (Hardcover)
Number of Pages: 355
Starkiller Rating: ★★★★✫
Quick Synopsis: Lara Jean gets over the boys she loves by writing them love letters, but never mailing them out. But one day, all her letters go missing and shenanigans ensue!
In honor of Jenny Han's sequel to TATBILB, PS. I Still Love You, being released this week, I thought I'd post a review, a long time coming. I read this book over the spring and instantly loved it! It was so different than what I had expected this story to be. Jenny Han does that to me. I just never know what to expect with her work. I expected this to be a story about a girl, trying to right the mayhem that started but instead, I was reading the cutest YA romance, I've read in a long time. Not only did it revolve around a love story, it touched on so many themes that young adults deal with. I was reading a touching story about family and friends, and I loved every second of it.
Lara Jean is truly a lovable character. She's adorable and a little quirky, which was a breath of fresh air. There are so many main characters who are similar but Lara Jean is different which makes her so relatable. I loved all the characters in this book and was enthralled by the absolute cuteness that Lara Jean / Kavinsky and Lara Jean / Josh experienced. It was one of the most swoon worthy books I've ever read.
The only thing I actually didn't like was Lara Jean's older sister, Margot. I loved their relationship. But even with that, I just couldn't feel anything for Margot except annoyance. The rest of the family and even Josh were more likable to me.
Overall, though, this book was fantastic from start to finish. It will quench anyone's thirst for a cute story. I seriously can't wait to read the next book!