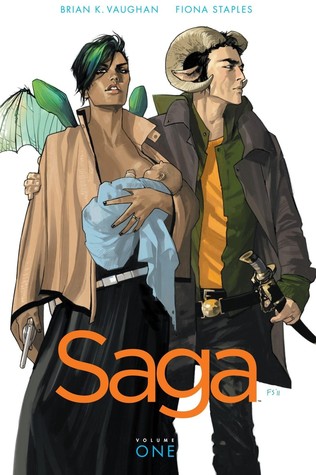 Title: Saga, Vol. 1
Author: Brian K Vaughan
Original Publication Date: October 23rd, 2012
Original Price: $9.99 (Paperback)
Number of Pages: 160
Starkiller Rating: ★★★★★
Quick Synopsis: A couple from opposing sides of a galactic war fall in love and abandon their respective sides to save their love, and their newborn daughter. Adventure ensues!
First off, wow. I've never read a comic book I've loved so much. It is tremendously Sci-Fi (which is usually a deal break for me) but it was done so wonderfully, I didn't even care. This story was beautifully written and gorgeously drawn.
I've never seen Fiona Staples art before but I loved it. The cover was simple but expertly detailed, which is exactly how the rest of the book was drawn. The art seemed simple but was definitely multi-layered and dynamic.
The writing was absolutely captivation right off the bat. I was hooked. I read it all so fast and I just wanted more and more once I finished!
Saga is perfect for fans of science fiction, war stories, and love stories. Especially fans of comics in general. Vaughan and Staples truly are a dream team. They have a spectacular story and series on their hands and I can't wait to continue reading it.
As I want to recommend this to everyone, I can't. Saga is a very graphic story that deals with very very adult situations.
So I definitely recommend this to all mature audiences!