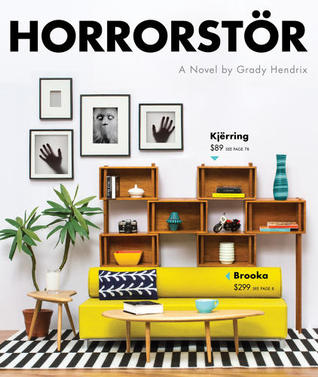 Title: Horrorstör
Author: Grady Hendrix
Original Publication Date: September 23rd, 2014
Original Price: $14.95 (Paperback)
Number of Pages: 246
Starkiller Rating: ★★★★✫
Quick Synopsis: Basically a ghost story that takes place in a knock-off IKEA.
I rounded up my rating for this review. I originally gave it 3.75 stars on Goodreads because it wasn't "scary" enough for me.
I saw this book on bookstagram and was instantly captivated by the odd packaging of it. The book looks exactly like an IKEA catalog. It was quirky enough to catch my attention and when Barnes and Noble had it on sale, I grabbed it, no questions asked.
It took me quite a few months to finally read this book too and I regret that decision. The characters were likable and relate able enough to warrant some sort of emotion and feelings for them from the reader. The story was essentially a haunted house set in a furniture store.
Anyone who has worked retail and just replace the Orsk name with whatever store they worked at and it instantly adds another creep factor. Because everyone's had these characters as coworkers and every store is freaky as fudge in the dark. But back to the story.
Horrorstor was more gory than it was "scary". It had its frightening moments but overall the visuals that Hendrix lays out are images that will resonate with any reader.
I would definitely recommend to any fan of horror or gore and I will definitely read more of Hendrix's work.